The web world changes quickly and so should you. Website redesign is one of the greatest things you can do for your business. It helps visitors find things easier on your website and makes your message clearer to them. Staying on course ensures that you keep up with the times and get the most out of new online opportunities.
Many small and medium-sized businesses have a reluctance of getting a website revamp due to the high costs. What these businesses don't know is that if done well, redesigning your website can be a wise investment. It can be a pricey and big project, but it will bring high returns on investment. Website redesign does not necessarily imply that you entirely scrap off your old website and start from scratch. A few functional modifications may just be what your website needs.
Successful businesses have mastered the art of capitalizing new technology to deliver better products and services. You may find it hard to keep up with the competition if you ignore integrating new technology into your business. Your website should evolve as technology and your company develops, so your website redesign must be a priority for your business.
Below are 8 reasons why you should consider giving your website a makeover: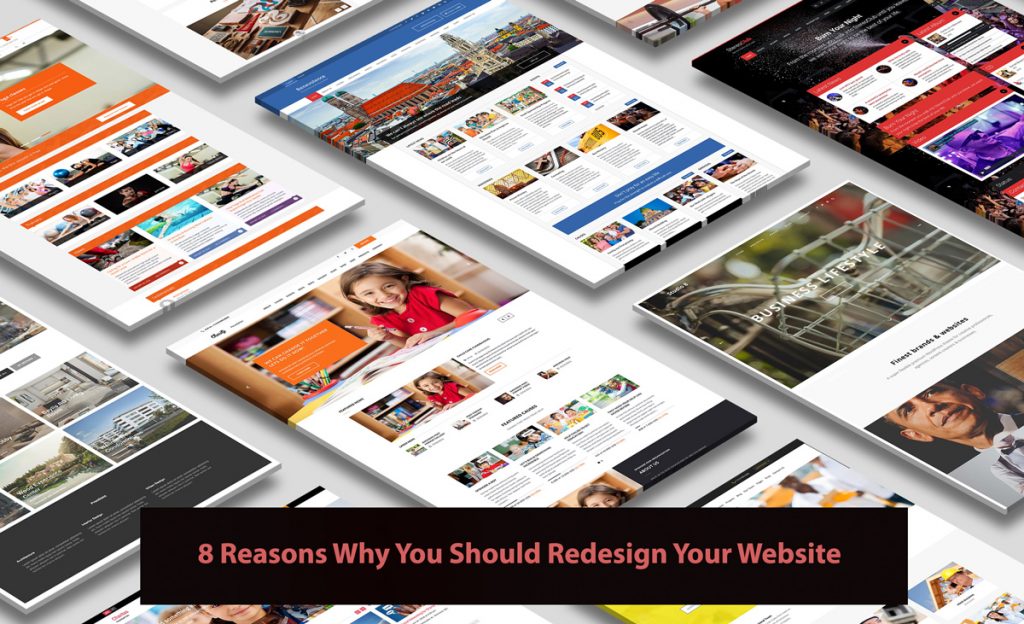 1. Your Current Website Design Is Old and Outdated
A person visiting your site will only need a few seconds to decide whether they like your website or not. First impressions matter. It is important to have a website that captures the attention of your visitors. Your business image is reflected by the quality of your website design. What this means is that if your website looks unprofessional, people will not take your business seriously. Web technology that was appealing a few years ago may be outdated today. If you feel like your website looks dull, chances are your visitors have the same feeling. Invest in a website facelift to ensure that your website remains fresh, professional and modern. A fresh design may be just what your web-savvy users need to capture their imagination.
2. Your Website Is Not Mobile-Friendly
People use different devices to access information online. Scientists have projected that mobile phones will overtake computers in the coming years. More and more people around the world are using their smartphones to access the internet. This has led to unprecedented growth in mobile web usage. Over 30% of website visits are done from mobile devices. Mobile users prefer websites that are optimized and responsive. If your website is not mobile-friendly, you will begin receiving a higher bounce rate from visitors originating from mobile devices. Apart from laptops and personal computers, you need to stay relevant by incorporating responsive mobile design. Ensure that your website can be easily viewed on mobile devices like smartphones and tablets. This way, you will guarantee best user experience and be able to reach a greater audience.
3. Your Website Is not ranking well in the Search Engines
A website redesign can help you improve your site structure so that it is more SEO friendly. The goal of SEO is to rank as high as possible so that you can engage with potential customers during their decision-making process about a service or product. A website redesign is an opportunity to update all things SEO and get rid of outdated code that is bogging you down. It also gives you a chance to rethink your keyword and the conversion rate of your website.
4. Your Website Lacks Social Media Integration
A few years ago, social media barely existed. Many businesses now realize the power of social media. Stay ahead of your competitors by incorporating the various social media platforms available. You will be able to connect with your users easily through social media and communicate any changes in your business. Many of your prospective clients are either on Facebook, Instagram or Twitter. If your website lacks social media presence, you are losing out on many opportunities. Post regularly to keep your audience engaged. Keeping your audience engaged will keep users on your site longer. Include links and sharing tools to your social network profiles. This way, users can pin, share or tweet your content to their followers. If done right, social media integration can be your 24/7 salesperson.
5. Your Website Lacks a Key Functionality
If for instance, you have an e-commerce website selling beauty products, it would be practical to start a beauty blog or forum on your website. By running a blog alongside your business, you will keep your clients informed on various topics related to your products. Post helpful information and do not forget to mention your product in the posts. Remind them why your products or services are the best. If your website does not have a contact page, it may be hard for people to reach you. Your users will go to another site if they are unable to find your phone number. A phone number helps to build trust with your clients. You can also decide to improve the usability of your site to ensure that visitors find whatever they are looking for. Add a search feature where they can enter keywords and find the information they need immediately. If your visitors cannot find what they are looking for, the chances are minimal that they will revisit your site. Remember to include a strong call-to-action to increase engagement on your website.
6. Your Website Needs Rebranding
Maybe you are not achieving your set goals, and it is time to rebrand. Rebranding is a common practice that many small and big businesses do. It redefines what you want your new website to accomplish. No matter how much you like your current website, it will not make any sense to rebrand your business and maintain the same website and other marketing materials. Rebranding has a lot more to do than just coming up with a new business name, color and logo. Your audience needs to know that you have become bigger and better. There is no better way to communicate that message than redesigning your website to come up with a more effective and functional website. Ensure the new content matches your new vision.
7. Your Website Is Slow
If your website takes more than 2 seconds to load, it is slow. A slow website will make you lose customers. The speed of your site determines the time visitors will spend on your site. Users expect a page to load with a click of a button. Slow website speed will frustrate users and make them avoid your site. Using a slow hosting program may be the reason behind your woes. WPlook Studio can take care of this issue, just choose the hosting plan that best fits your budget and business needs.
8. Your Website Has Poor Visuals
Poor imagery gives a bad first impression of your business. It shows that you do not care about your business or your clients. Redesign your website to include high-quality and authentic images that will make them want to buy your products or services. Customers want to see what it's like to use your products or services before they decide whether to go ahead and buy them or not. Quality visuals build a connection between your brand and your prospective customers.
It's Time to Redesign Your Website
A website revamp can prove to be to be daunting, but with the right web design company, you can turn things around. To learn more about anything discussed above, please don't hesitate to contact us. We would love to hear from you and help out to redesign your website!